The Baroness Hotel
About Us
Step back in time and experience the timeless allure of The Baroness Hotel. Nestled within the historic First Hill neighborhood, our hotel is a proud partner of the renowned Virginia Mason Franciscan Health campus.
With a history as rich as our surroundings, The Baroness Hotel offers the perfect haven for both brief and extended medical, patient, or family visits. Moreover, our hotel serves as an excellent launchpad for your Seattle escapades or a seamless layover before embarking on your Alaskan Cruise adventure.
Whether you're seeking the world-class medical facilities in the area or embarking on a Seattle vacation, our mission is to ensure a truly delightful stay.
Learn More
Accommodations
Featured Rooms
Nestled in the heart of Seattle's First Hill Neighborhood, The Baroness Hotel welcomes you to a world where historic charm meets modern comfort. We offer two main room types, suites and studios, with three different bed configurations; single queen, double queen, and double twin.
Queen Studio
Unwind in our Queen Studio, where you'll find a cozy queen-size bed. This room also includes a mini fridge, microwave, and dining table for your convenience.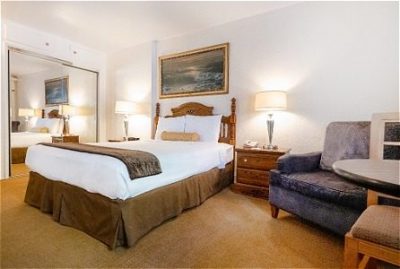 Double Queen Studio
The Double Queen Studio is perfect for families or friends traveling together. The room also offers a larger kitchenette area than our other studios and dining table.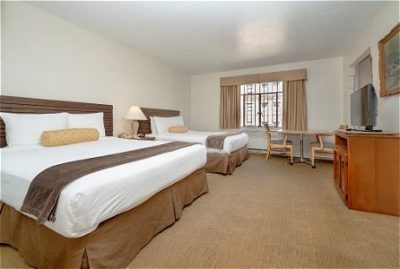 Queen Suite
Step into our Queen Suite and enjoy the added space and amenities. This one-bedroom suite features a queen-size bed, a large closet, and a fully equipped kitchen for your culinary needs.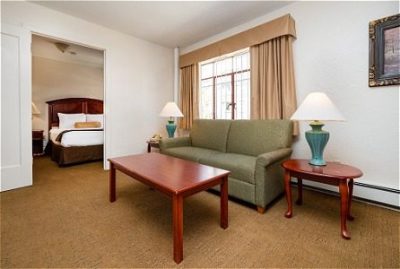 Location & Parking
Getting Here
The Baroness hotel is conveniently located in Seattle's First Hill neighborhood, within the Virginia Mason Franciscan Health campus, providing convenient access to many nearby hospitals and key Seattle attractions. There are many options for parking near the hotels including both a self-service parking garage located at Virginia Mason and a parking lot on Terry & Spring that offers direct access to the back entrance of the hotel.
Travel & Driving Directions